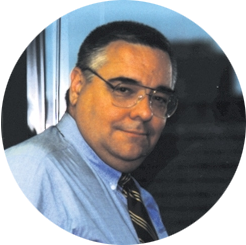 Anthony D. "Tony" Kruglinski, was the Founder and President of Railroad Financial Corporation and Railway Age's long-time Financial Editor. He passed away on Sunday, June 15, 2014.
"A great friend and colleague, Tony was a fighter until the end, and he carried himself with pride and honor throughout his treatment and disease," said Railroad Financial Corporation Senior Vice President David Nahass. "When he received his diagnosis, the outpouring of support from all corners of the industry was incredible. The continued inquiries after his well-being were equally frequent and touching. The concern was heartfelt and its sincerity and volume was a great source of happiness and contentment for Tony.
"Tony was especially touched by the outpouring of affection and support at Rail Equipment Finance 2014. In many ways, other than as the President of Railroad Financial Corporation, which he founded in 1989, the mark he put on the industry will be best epitomized by the conference and its relevance to the industry at large. He was proud of Rail Equipment Finance and the manner in which it has become a harbinger of spring and a bellwether for the industry's health. The enthusiasm for his participation in this year's REF was remarkable for him, his family, and for all of RFC.
"We will always remember Tony for his old school toughness and his appreciation for the people with whom he worked over the years. He was in so many ways an incredible man. A man of generosity, kindness, and intellect, Tony had a great love of life and was indeed a figure that was larger than life. He will be missed. As sad as we are to hear and acknowledge his passing, we know that his pain has eased and he is in a better place. Rest in peace, big guy."
"Tony was a man of formidable talent," said Railway Age Senior Consulting Editor Luther S. Miller. "Over the years, his many editorial contributions to the magazine—his Financial Edge column, and the Guide to Equipment Leasing and Financial Desk Book—set the standard for reporting and commentary on railroad equipment finance and leasing. But more significant, he was a man of integrity. Whether he was structuring a multi-million-dollar locomotive or railcar deal, or just giving advice, Tony inspired trust, confidence, and respect."